PEOPLE WHO CHANGED THE WORLD
Upload your Offers / Rates
IF YOU ARE A WRITER

Upload Biography of People
who made a difference
Mahatma Gandhi Biography
Mahatma Gandhi was a prominent Indian political leader who campaigned for Indian independence. He employed non-violent principles and peaceful disobedience. He was assassinated in 1948,

shortly after achieving his life goal of Indian independence. In India, he is known as 'Father of the Nation'.
"When I despair, I remember that all through history the ways of truth and love have always won. There have been tyrants, and murderers, and for a time they can seem invincible, but in the end they always fall. Think of it–always."



Short Biography of Mahatma Gandhi
Mohandas K. Gandhi was born in 1869, in Porbandar, India. Mohandas was from the social cast of tradesmen. His mother was illiterate, but her common sense and religious devotion had a lasting impact on Gandhi's character. As a youngster, Mohandas was a good student, but the shy young boy displayed no signs of leadership. On the death of his father, Mohandas travelled to England to gain a degree in law. He became involved with the Vegetarian Society and was once asked to translate the Hindu Bhagavad Gita. This classic of Hindu literature awakened in Gandhi a sense of pride in the Indian scriptures, of which the Gitawas the pearl.

Around this time, he also studied the Bible and was struck by the teachings of Jesus Christ – especially the emphasis on humility and forgiveness. He remained committed to the Bible and Bhagavad Gita throughout his life, though he was critical of aspects of both religions.
Gandhi in South Africa
On completing his degree in Law, Gandhi returned to India, where he was soon sent to South Africa to practise law. In South Africa, Gandhi was struck by the level of racial discrimination and injustice often experienced by Indians. It was in South Africa that Gandhi first experimented with campaigns of civil disobedience and protest; he called his non-violent protests satyagraha. Despite being imprisoned for short periods of time, he also supported the British under certain conditions. He was decorated by the British for his efforts during the Boer War and Zulu rebellion.
Gandhi and Indian Independence
After 21 years in South Africa, Gandhi returned to India in 1915. He became the leader of the Indian nationalist movement campaigning for home rule or Swaraj.

Gandhi successfully instigated a series of non-violent protest. This included national strikes for one or two days. The British sought to ban opposition, but the nature of non-violent protest and strikes made it difficult to counter.

Gandhi also encouraged his followers to practise inner discipline to get ready for independence. Gandhi said the Indians had to prove they were deserving of independence. This is in contrast to independence leaders such as Aurobindo Ghose, who argued that Indian independence was not about whether India would offer better or worse government, but that it was the right for India to have self-government.

Gandhi also clashed with others in the Indian independence movement such as Subhas Chandra Bose who advocated direct action to overthrow the British.

Gandhi frequently called off strikes and non-violent protest if he heard people were rioting or violence was involved.

In 1930, Gandhi led a famous march to the sea in protest at the new Salt Acts. In the sea, they made their own salt, in violation of British regulations. Many hundreds were arrested and Indian jails were full of Indian independence followers.

However, whilst the campaign was at its peak some Indian protesters killed some British civilians, and as a result, Gandhi called off the independence movement saying that India was not ready. This broke the heart of many Indians committed to independence. It led to radicals like Bhagat Singh carrying on the campaign for independence, which was particularly strong in Bengal.
Gandhi and the Partition of India
After the war, Britain indicated that they would give India independence. However, with the support of the Muslims led by Jinnah, the British planned to partition India into two: India and Pakistan. Ideologically Gandhi was opposed to partition. He worked vigorously to show that Muslims and Hindus could live together peacefully. At his prayer meetings, Muslim prayers were read out alongside Hindu and Christian prayers. However, Gandhi agreed to the partition and spent the day of Independence in prayer mourning the partition. Even Gandhi's fasts and appeals were insufficient to prevent the wave of sectarian violence and killing that followed the partition.

Away from the politics of Indian independence, Gandhi was harshly critical of the Hindu Caste system. In particular, he inveighed against the 'untouchable' caste, who were treated abysmally by society. He launched many campaigns to change the status of untouchables. Although his campaigns were met with much resistance, they did go a long way to changing century-old prejudices.

At the age of 78, Gandhi undertook another fast to try and prevent the sectarian killing. After 5 days, the leaders agreed to stop killing. But ten days later Gandhi was shot dead by a Hindu Brahmin opposed to Gandhi's support for Muslims and the untouchables.
Gandhi and Religion
Gandhi was a seeker of the truth.

"In the attitude of silence the soul finds the path in a clearer light, and what is elusive and deceptive resolves itself into crystal clearness. Our life is a long and arduous quest after Truth."

– Gandhi

Gandhi said his great aim in life was to have a vision of God. He sought to worship God and promote religious understanding. He sought inspiration from many different religions: Jainism, Islam, Christianity, Hinduism, Buddhism and incorporated them into his own philosophy.

On several occasions, he used religious practices and fasting as part of his political approach. Gandhi felt that personal example could influence public opinion.

"When every hope is gone, 'when helpers fail and comforts flee,' I find that help arrives somehow, from I know not where. Supplication, worship, prayer are no superstition; they are acts more real than the acts of eating, drinking, sitting or walking. It is no exaggeration to say that they alone are real, all else is unreal."

– Gandhi Autobiography – The Story of My Experiments with Truth
Dilip Shanghvi
Indian businessman (Founder Sun
Pharmaceuticals)
Dilip Shanghvi is an Indian billionaire businessman and one of the country's richest people. He founded Sun Pharmaceuticals. The Government of India awarded him the civilian honour of the Padma Shri in 2016. India Today magazine ranked him #8th in India's most powerful people of 2017 list.
Born:
1 October 1955 (age 63 years), Amreli
Net worth:
870 crores USD (2019)
Education:
University of Calcutta (1982)
Children:
Aalok Shangvi, Vidhi Shanghvi
Awards:
Padma Shri, CNN-IBN Indian of the Year in Business
1. Like to Win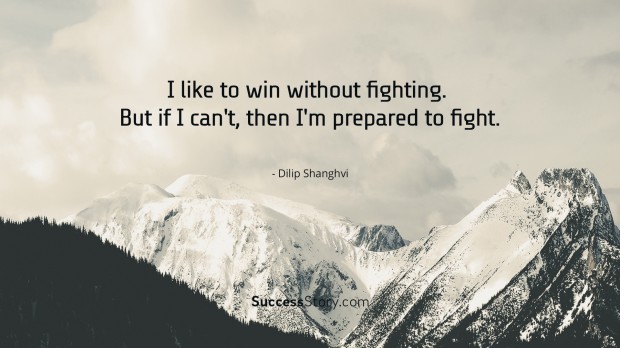 "I like to win without fighting. But if I can't, then I'm prepared to fight."


2. More to Learn.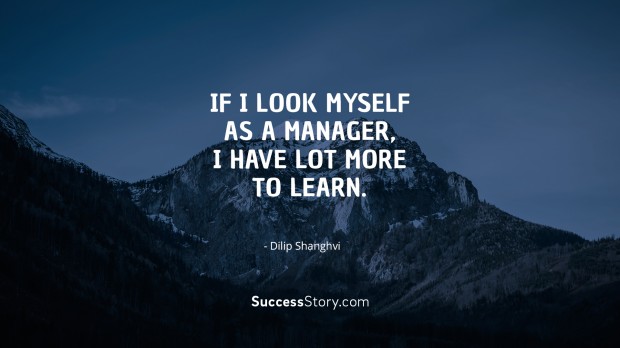 "If I look myself as a manager, I have lot more to learn."


3. Doesn't Necessarily Mean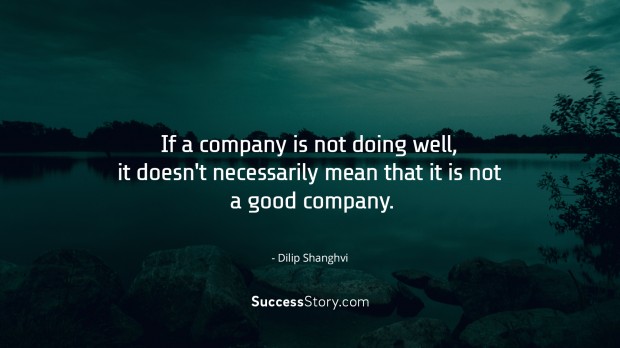 "If a company is not doing well, it doesn't necessarily mean that it is not a good company."


4. Manager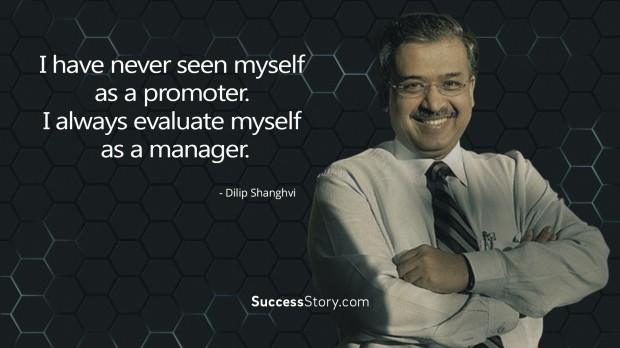 "I have never seen myself as a promoter. I always evaluate myself as a manager."


5. Money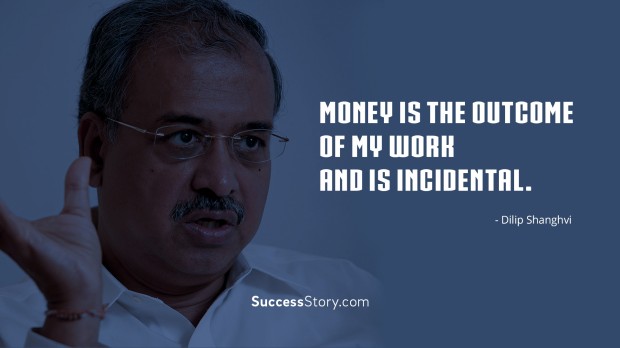 "Money is the outcome of my work and is incidental."

Steve Jobs (Feb 24, 1955 – October 5, 2011) was an American businessman and inventor who played a key role in the success of Apple computers and the development of revolutionary new technology such as the iPod, iPad and MacBook.
Early Life
Steve Jobs was born in San Francisco, 1955, to two university students Joanne Schieble and Syrian-born John Jandali. They were both unmarried at the time, and Steven was given up for adoption.
Steven was adopted by Paul and Clara Jobs, whom he always considered to be his real parents. Steven's father, Paul, encouraged him to experiment with electronics in their garage. This led to a lifelong interest in electronics and design.
Jobs attended a local school in California and later enrolled at Reed College, Portland, Oregon. His education was characterised by excellent test results and potential. But, he struggled with formal education and his teachers reported he was a handful to teach.
At Reed College, he attended a calligraphy course which fascinated him. He later said this course was instrumental in Apple's multiple typefaces and proportionally spaced fonts.
Steve Jobs in India
In 1974, Jobs travelled with Daniel Kottke to India in search of spiritual enlightenment. They travelled to the Ashram of Neem Karoli Baba in Kainchi. During his several months in India, he became aware of Buddhist and Eastern spiritual philosophy. At this time, he also experimented with psychedelic drugs; he later commented that these counter-culture experiences were instrumental in giving him a wider perspective on life and business.
"Bill Gates'd be a broader guy if he had dropped acid once or gone off to an ashram when he was younger." – Steve Jobs, The New York Times, Creating Jobs, 1997
Job's first real computer job came working for Atari computers. During his time at Atari, Jobs came to know Steve Wozniak well. Jobs greatly admired this computer technician, whom he had first met in 1971.
Steve Jobs and Apple
In 1976, Wozniak invented the first Apple I computer. Jobs, Wozniak and Ronald Wayne then set up Apple computers. In the very beginning, Apple computers were sold from Jobs parents' garage.
Over the next few years, Apple computers expanded rapidly as the market for home computers began to become increasingly significant.
In 1984, Jobs designed the first Macintosh. It was the first commercially successful home computer to use a graphical user interface (based on Xerox Parc's mouse driver interface.) This was an important milestone in home computing and the principle has become key in later home computers.
Despite the many innovative successes of Jobs at Apple, there was increased friction between Jobs and other workers at Apple. In 1985, removed from his managerial duties, Jobs resigned and left Apple. He later looked back on this incident and said that getting fired from Apple was one of the best things that happened to him – it helped him regain a sense of innovation and freedom, he couldn't find work in a large company.
Life After Apple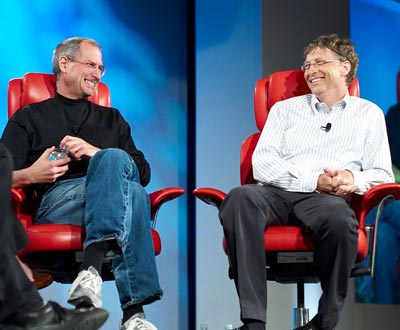 Steve Jobs and Bill Gates
On leaving Apple, Jobs founded NeXT computers. This was never particularly successful, failing to gain mass sales. However, in the 1990s, NeXT software was used as a framework in WebObjects used in Apple Store and iTunes store. In 1996, Apple bought NeXT for $429 million.
Much more successful was Job's foray into Pixar – a computer graphic film production company. Disney contracted Pixar to create films such as Toy Story, A Bug's Life and Finding Nemo. These animation movies were highly successful and profitable – giving Jobs respect and success.
In 1996, the purchase of NeXT brought Jobs back to Apple. He was given the post of chief executive. At the time, Apple had fallen way behind rivals such as Microsoft, and Apple was struggling to even make a profit.
Return to Apple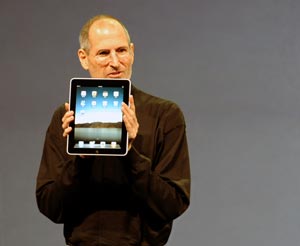 Photo: Matt Buchanan
Jobs launched Apple in a new direction. With a certain degree of ruthlessness, some projects were summarily ended. Instead, Jobs promoted the development of a new wave of products which focused on accessibility, appealing design and innovate features.
The iPod was a revolutionary product in that it built on existing portable music devices and set the standard for portable digital music. In 2008, iTunes became the second biggest music retailer in the US, with over six billion song downloads and over 200 million iPods sold.
In 2007, Apple successfully entered the mobile phone market, with the iPhone. This used features of the iPod to offer a multi-functional and touchscreen device to become one of the best-selling electronic products. In 2010, he introduced the iPad – a revolutionary new style of tablet computers.
The design philosophy of Steve Jobs was to start with a fresh slate and imagine a new product that people would want to use. This contrasted with the alternative approach of trying to adapt current models to consumer feedback and focus groups. Job's explains his philosophy of innovative design.
"But in the end, for something this complicated, it's really hard to design products by focus groups. A lot of times, people don't know what they want until you show it to them."
– Steve Jobs, BusinessWeek (25 May 1998)
Apple has been rated No.1 in America's most admired companies. Jobs management has been described as inspirational, although c-workers also state, Jobs could be a hard taskmaster and was temperamental. NeXT Cofounder Dan'l Lewin was quoted in Fortune as saying of that period, "The highs were unbelievable … But the lows were unimaginable."
"My job is not to be easy on people. My jobs is to take these great people we have and to push them and make them even better." – All About Steve Jobs [link]
Under Jobs, Apple managed to overtake Microsoft regarding share capitalization. Apple also gained a pre-eminent reputation for the development and introduction of groundbreaking technology. Interview in 2007, Jobs said:
"There's an old Wayne Gretzky quote that I love. 'I skate to where the puck is going to be, not where it has been.' And we've always tried to do that at Apple. Since the very very beginning. And we always will."
Despite, growing ill-health, Jobs continued working at Apple until August 2011, when he resigned.
Wealth

"I was worth over $1,000,000 when I was 23, and over $10,000,000 when I was 24, and over $100,000,000 when I was 25, and it wasn't that important because I never did it for the money."

– Steve Jobs

Jobs earned only $1million as CEO of Apple. But, share options from Apple and Disney gave him an estimated fortune of $8.3billion.

Personal life

In 1991, he married Laurene Powell, together they had three children and lived in Palo Alto, California.

In 2003, he was diagnosed with Pancreatic Cancer. Over the next few years, Jobs struggled with health issues and was often forced to delegate the running of Apple to Tim Cook. In 2009, he underwent a liver transplant, but two years later serious health problems returned. He worked intermittently at Apple until August 2011, where he finally retired to concentrate on his deteriorating health. He died as a result of complications from his pancreatic cancer, suffering cardiac arrest on 5 October 2011 in Palo Alto, California.

In addition to his earlier interest in Eastern religions, Jobs expressed sentiments of agnosticism.

"Sometimes I believe in God, sometimes I don't. I think it's 50-50 maybe. But ever since I've had cancer, I've been thinking about it more. And I find myself believing a bit more. I kind of – maybe it's 'cause I want to believe in an afterlife. That when you die, it doesn't just all disappear."